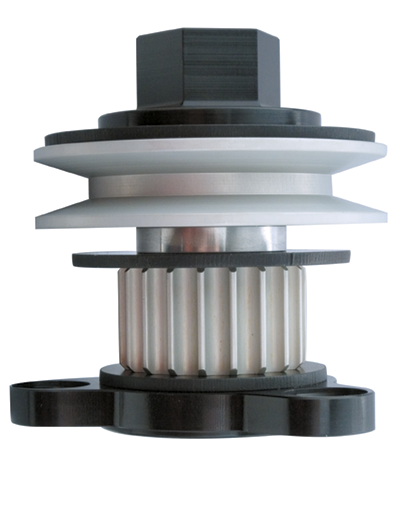 Custom Spline Drive
Peterson has developed an easy to use accessory drive system that utilizes a spline system rather than a single key. It is stronger and easier to use. We carry hubs for most popular applications. There are times when those will not work for a project so we developed a program to build custom hubs that will work with the rest of the spline drive system. You can choose the offset from the face of the dampener, splined shaft length and bolt circle. The final part will be black hard coat anodized for durability and finished look. We can also set them up to produce quantities if they are for an ongoing project. Use the form below to give us the dimensions you need and then we can move forward.

Once we have the information and rough drawing from you we will create a mechanical CAD drawing. The CAD drawing will be sent to you for final approval. If there are any changes to be made we will correct the drawing and send you the revision. Once the CAD drawing is exactly what you need we will ask for you to sign off and the tank will then enter the queue for production.
Custom Drive Form
*Please note that custom drives will require a 50% deposit before any work will begin. You will be quoted a price and an estimated time of completion once the drawings are finalized. Custom drives with a signed off drawing may not be returned for any reason.